Self-Service Development Platform
The Industry-First, Fully Integrated, Self-Service Development Platform to Drive your End-to-End Digital and Data Product Development Process…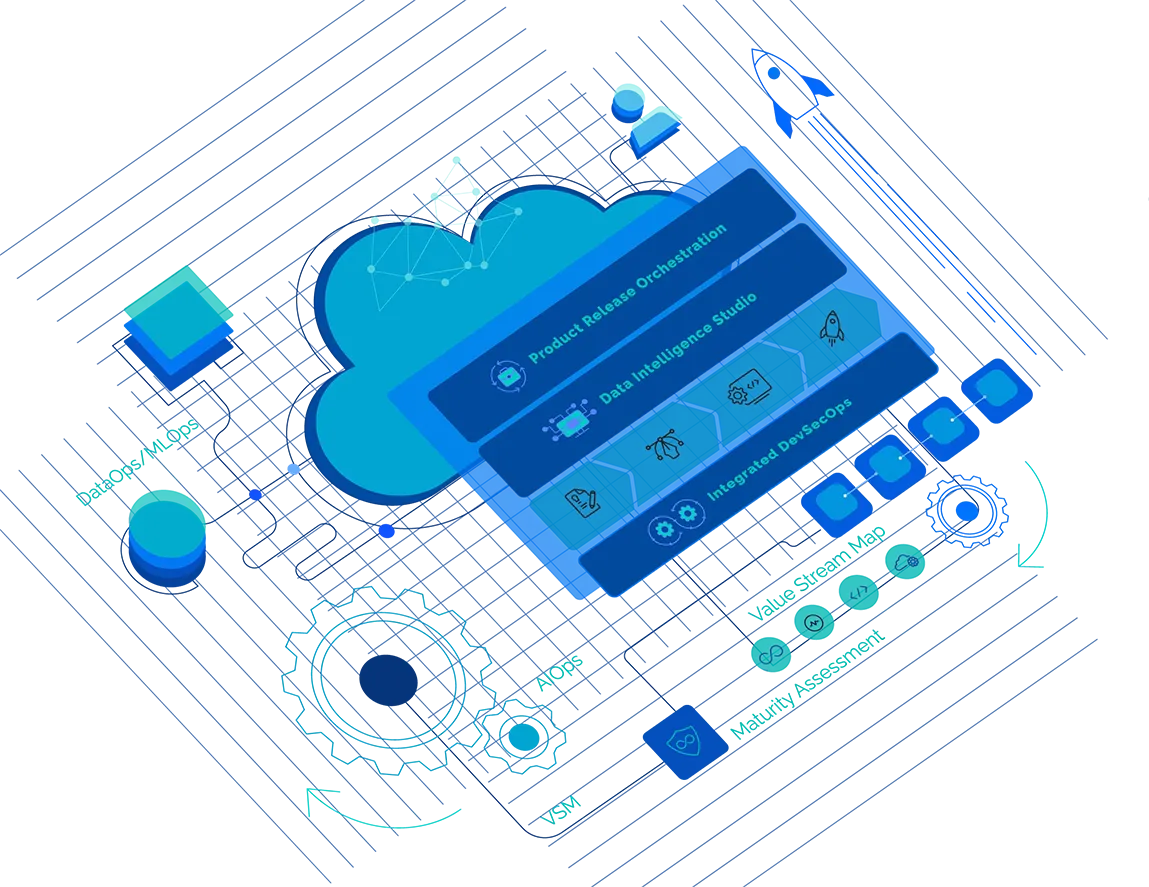 Product Release Orchestration (PRO)
Simplify your digital portfolio and product lifecycle management with unified process, visibility, and performance metrics!
Data Intelligence Studio (DIS)
Unravel the magic you can create with data using technologies of your choice!
Integrated DevSecOps Platform (IDP)
Increase product security without losing release velocity!
A Platform with numerous capabilities and infinite possibilities
Integrated Digital Ecosystem
Bring your technology, toolchain, stakeholders, and enterprise systems together under one roof to drive digital innovation.
Accelerate Digital Innovation
Fuel your productivity and maximize your ROI with the fully-managed platform with technologies of your choice.
Foster Enterprise Collaboration
Leverage true collaboration between business and technology teams. Remove complexities to deliver digital and data products.
Enhance Developer Experience
Automate non-value added chores so your developers can focus on core activities: design, code, debug, and deploy.
Establish Product Orientation
Future-proof your technology landscape. Adopt best practices, processes, and systems to help you build products that scale.
Executive Insights and Governance
Insightful dashboards across portfolios, products, teams, and financial metrics to drive improvements.
One Platform-Multiple Stakeholders
A unified platform with intuitive dashboards that benefit multiple stakeholders -Executives, Product Owners, Platform Admins, Architects, and Developers.
Best-of-breed technologies out-of-the-box
Out-of-the-box integration with 100+ best-in-breed technologies of your choice.
Security at the core of everything you do
From authentication to integrated DevSecOps, security is infused into the entire development lifecycle.
Read more…
Gain industry-leading research and insights through datasheets, whitepapers, articles, blogs and more.
Talk to our product experts on how the multiple capabilities of Calibo Platform Product Platform-as-a-Service (pPaaS) can meet your specific requirements, write to
sales@calibo.com
.